Over the past decade, technology and digital platforms have emerged as critical instruments for the promotion of human rights. Social Justice Organizations (SJOs) in Africa are increasingly relying on technology and digital platforms for their work. However, they have not fully grasped the extent of their dependency on digital technologies, and neither are they fully aware of the opportunities and risks presented by the digital environment for their work. The key challenges faced by SJOs in the region include the shrinking civic space; restrictive and hostile operating environments; their limited capacity, knowledge, and awareness of digital resilience; the adverse impact of COVID-19; and funding limitations that inhibit their activities.
In response to these challenges, KICTANet established the Tatua Digital Resilience Centre to offer a bouquet of services to SJOs in East Africa to enhance their digital resilience, quickly respond to and recover from digital threats, and harness the power of technology to enable them to achieve their mission in a digitally changing environment.
The Tatua Digital Resilience Centre supports social justice organisations in East Africa, to maintain, grow, change, recover and survive in a changing environment by implementing effective digital strategies. It provides support to SJOs in Kenya, Tanzania and Uganda working to advance digital rights. Afterwards, it will scale to other organisations in East Africa, and ultimately, the continent. The funding for the centre is initially from donor funds. It will in future adopt a subscription model and subsidised cost of services such as co-payment or contribution to the cost of services. In discharging its functions, the centre fosters strategic relationships to enable it to discharge its mandate.
Our Vision: Transformed safe communities through the power of ICTs.
Our Mission: Promote an enabling environment in the ICT sector that is robust, open, accessible, and rights-based.
Core Values: Transparency, accountability, integrity, inclusivity and good governance.
Resilience Board: The Tatua Digital Resilience Advisory Board is composed of KICTANet, CIPESA, Pollicy, CIPIT, Article 19 Eastern Africa, and iHub.
Geographical reach: East Africa – Kenya, Uganda, and Tanzania.
Languages: English and Kiswahili.
Weaving Resilience Partners
The Centre is also part of a wider network of resilience hubs in the region under the Ford Foundation's Weaving Resilience initiative for Stronger Civil Society in the Global South. These are interrelated yet highly localised resource hubs in eight regions across the Global South so regional organisations can empower each other with the expertise and tools they need to build and sustain social change as shown in the figure below. Together, they seek to address three central challenges facing civil society: institutional resilience, strategic relevance, and holistic well-being.
Institutional resilience: Civil society organizations in the Global South operate within a web of complex and rapidly changing standards—from convoluted tax laws to undue audits and inspections. Authoritarian governments weaponize these regulations to denigrate civil society and force organizations into closure. As a result, civil society is forced to dedicate their time and resources to navigating these financial and legal obstacles in order to simply survive—often at the cost of their day-to-day operations.
Strategic relevance: Undemocratic regimes frequently frame civil society organizations as agents of foreign interests or enemies of the very communities they serve. These attacks are designed to delegitimize, and they require a coordinated response that can both counter misrepresentation and present new, creative, and proactive strategies for change.
Holistic well-being: Civil society organizations face challenges not only to their operations but to their team members' very lives and livelihoods. In nations across the Global South, these threats are imminent and include everything from physical and emotional strain to security threats against staff and their families.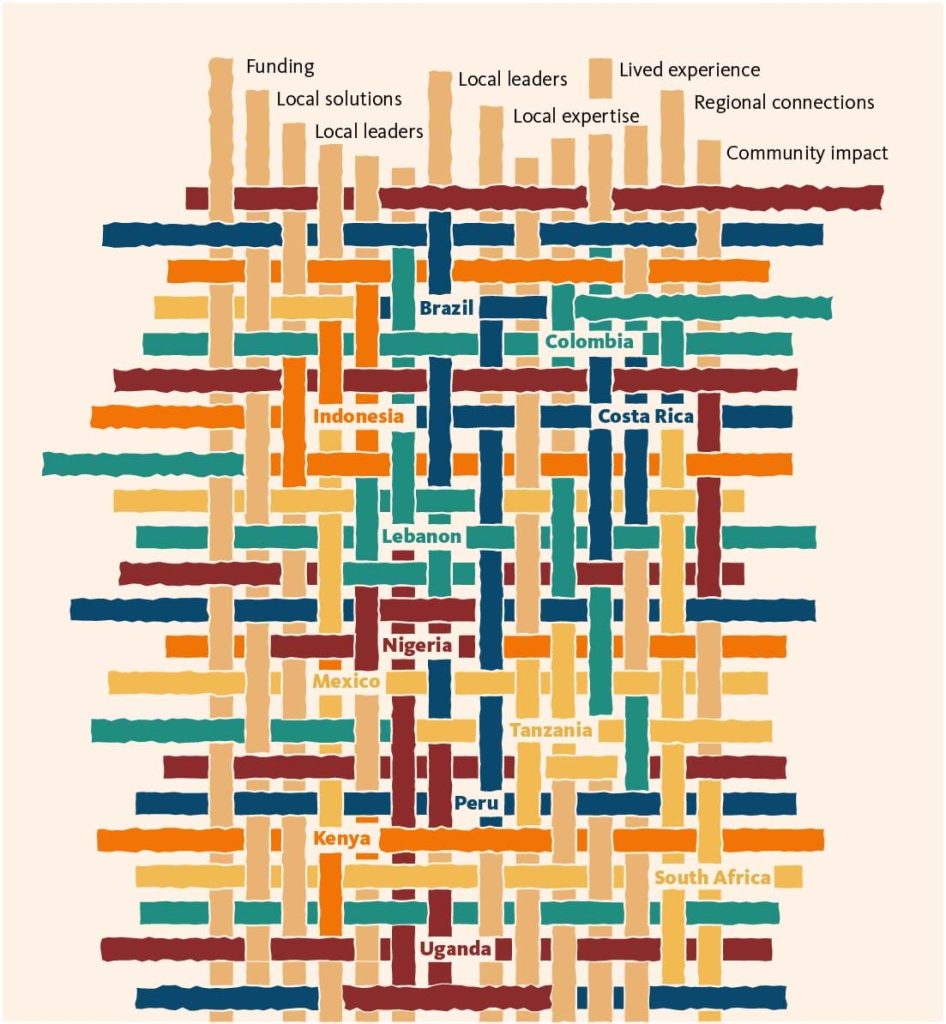 East Africa: Protection Hub (THRD and Defend Defenders), Digital Resilience Hub (KICTANet, AIRA), Financial Hub (KCDF and CivicFund), Mental Hub (Inuka ni Sisi)
Southern Africa: CSVR, SGS Consulting, Digital Society Africa, Humentum
MENA: NGOi
South America: PretaHub (Brazil), Compartamos por Colombia, De Justicia (Andean Region)
Mexico: Creatura, Fundacion, Acceso, Cometa, Bridges, MetGroup.
Indonesia: PLUS, Spirit, Ananta Fund.
Global Hubs: Civicus, PiLNet, Urgent Action Fund, Oxfam America and CLUA.
Institutional Governance
The Centre has an Advisory Board made up of representatives of Africa Internet Rights Alliance members in East Africa (i.e., KICTANet, CIPESA, Pollicy, ARTICLE 19 Eastern Africa, Strathmore University (CIPIT), and iHub), and a select group of diverse technical experts to provide overall leadership and policy direction.
The AIRA network provides a platform to co-create, learn, explore, and share areas of common interest; understand the perspective of other teams, and how collaboration can be enhanced; and ensure the network is engaged as one of the resilience centres. The diversity of membership provides unique insights into the context in the different countries and supports coordination with local social justice organisations.
KICTANet provides the secretarial services and oversees the day-to-day management of the Centre, through a Coordinator. The Coordinator shall be a person with technical expertise and management experience, and other officers within the centre will support functions of the centre such as cyber incident response; research and strategy; technical support; community engagement; in-country technology fellows; and business development.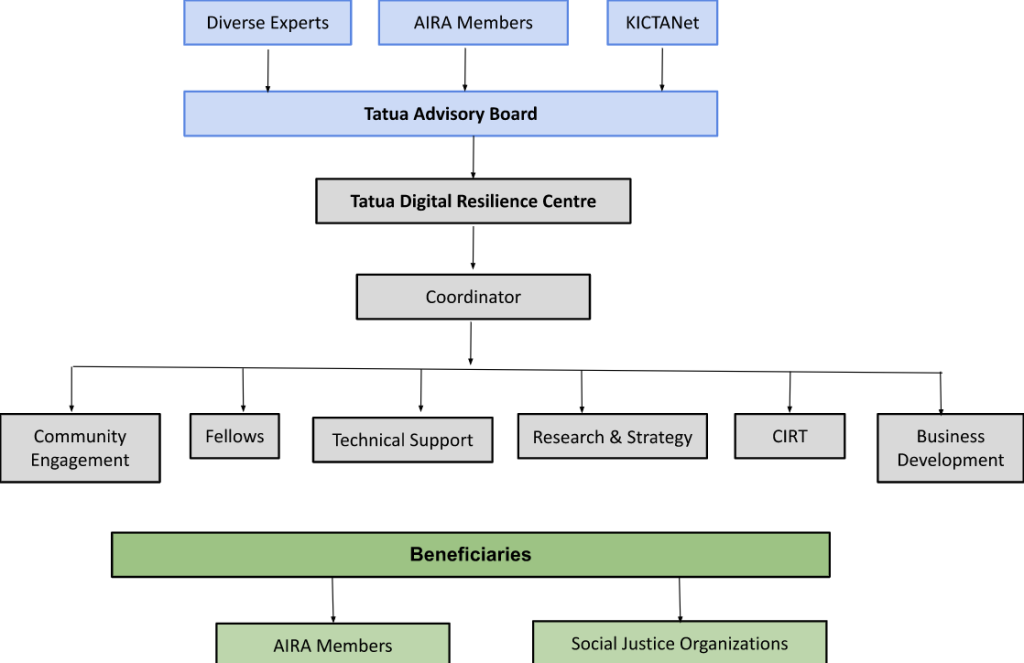 Implementation model
The purpose is to strengthen institutional resilience by enabling organisations to maintain, grow, change, recover, and survive by employing effective digital strategies. In particular, it strengthens digital resilience aspects such as governance, accountability, leadership, culture, situational awareness, innovation, adaptive capacity, research, and risk management. The Centre is diverse and inclusive at all levels and draws its expertise from the continent and the global South.
The Centre has set up a hub in Kenya and nodes in Tanzania and Uganda to support social justice organisations in East Africa. These are responsible for conducting audits and assessments, developing policies, training, research, coordination of the board, monitoring and evaluation, and reporting frameworks.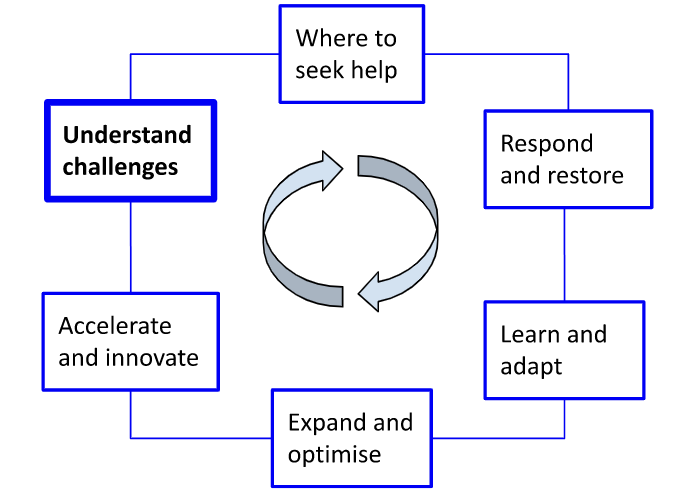 Weaving Resilience Principles
Anchored in an anti-colonial, anti-patriarchal, anti-racist, and anti-ableist frame that
a) Privileges feminist principles and perspectives,
b) Rests on power analysis,
c) Recognises and fights against male-centric paradigms and white privilege,
d) Confronts and deconstructs ableism,
e) Re-affirms visions from and capacities in the Global South,
f) Consolidates the Global South's role in building resilient and impactful institutions,
g) Develops a South-based network of resource hubs that permeates dominant Global North paradigms of institutional development and resilience.